Wii Fit Explained!
BY Kelly Marshall
BSc (Hons),Dip PT, NASM, SFS, IFS, CES

The emergence of 'active' computer gaming with Nintendo's Wii Fit, has essentially changed home entertainment forever, as it continues to dominate the top of all Games format charts (Edge magazine January 2009).

The Wii Fit is just one of a number of games developed as part of Nintendo's 'Wii' series; others include Wii Play, Wii Chess and Wii Sports and Wii Music. In case you have somehow managed to miss the massive marketing campaign over the last 12months, here is an easy-to-understand overview of the Wii Fit and all it involves.
Do I need any other equipment to get started?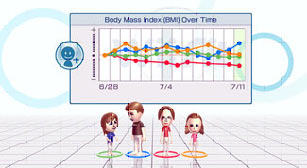 The Wii Fit uses a unique platform peripheral termed the 'Wii Fit Balance Board' which comes as standard on initial purchase. It is pressure sensitive, wireless and senses shifts in a person's weight and balance. This then allows individuals to calculate their body mass index (see figure A), interact with over 40 different games, compare different player's fitness levels and even calculate and track your ''Wii Fit Age'' based on your current age, weight and athletic ability.
What games are there?
Training on Wii Fit can be divided into four categories:
Yoga - to target your balance and flexibility with various yoga poses including the cobra, bridge, warrior pose and sun salutation.
Strength training - muscle-toning exercises including single leg extension, lunge, push ups, triceps extensions and side planks.
Aerobics - activities that aim to elevate your heart rate like hula hoop activities, rhythm boxing (which is similar to step aerobics) and free run.
Balance games - to challenge your body control these balance-based games include ski slalom, football heading, penguin slide and tightrope.
Disclaimer
You are advised to seek medical advice before beginning any exercise regime and/or weight loss programme. Nutracheck is only intended for use by healthy adult individuals and specifically not by under 18's, pregnant women, or individuals with any type of health condition. It is the responsibility of all users of this website to satisfy themselves as to their personal medical and physical condition in determining whether or not to use or adapt the information or content provided. Notwithstanding the medical or physical condition of a user, no responsibility or liability is accepted for any loss or damage suffered by an individual as a result of the use or misuse of any of the information or content in this website.
Disclaimer
You are advised to seek medical advice before making any changes to your diet or lifestyle with an aim of weight loss. This website and the content provided should not be used by persons under 18, by pregnant or nursing women, or individuals with any type of health condition, except under the direct supervision of a qualified medical professional. The information contained in these articles, and elsewhere on this website, is provided for educational and entertainment purposes only, and is not intended to replace, and does not constitute legal, professional, medical or healthcare advice or diagnosis and may not be used for such purposes. Continue...

You should seek the advice of your physician or other qualified health provider with any questions you may have regarding a medical or wellness condition in determining whether to use or adapt the information or content provided. We make no representations or warranties concerning any treatment, action, application or usage of dietary supplements, medication, preparation or other product or service by any person following the information offered or provided within or through the website. Reliance on any information appearing on a site is strictly at your own risk. Neither we, our affiliates nor any of the officers, directors, owners, employees, agents, representatives and assigns of each will be liable for any direct, indirect, consequential, special, exemplary or other losses or damages that may result including, but not limited to, economic loss, injury, illness or death.