Healthy Eating & Vitamin C
What is vitamin C?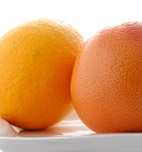 Vitamin C is a water-soluble vitamin that cannot be stored by the body because it is eliminated in urine (which is the nice scientific way of saying you get rid of it when you wee!). We need a continuous daily supply of vitamin C and the recommended daily amount is 60mgs.

It is an anti-oxidant that neutralises potentially damaging free radicals in the body. It is found in most fresh fruit and vegetables, but levels of vitamin C decrease during storage and it is destroyed by cooking, so aim to eat your 5-a-day portions of raw fruit and vegetables every day. Vitamin C is particularly useful for vegetarians because it aids in the absorption of non-heme iron from plant sources.
What can vitamin C do for me?
Boost the immune system
Maintain healthy skin
Speed up the healing process
Neutralize pollutants in the body
What indicates a deficiency of vitamin C?
Scurvy (in extreme cases)
Dry skin and scalp
Irritability
Broken thread veins
Bleeding gums
Who particularly needs vitamin C?
People recovering from an illness
Over 55s
People who drink and smoke heavily
Foods rich in Vitamin C
| Food | Serving size | Cals | Amount | GDA (%) |
| --- | --- | --- | --- | --- |
| Oranges | 160g | 59 | 85.2 mg | 142 % |
| Grapefruit | 80g | 24 | 27.5 mg | 45 % |
| Broccoli | 110g | 26 | 46.2 mg | 77 % |
| Cauliflower | 90g | 25 | 39.8 mg | 66 % |
| Strawberries | 100g | 27 | 58.8 mg | 98 % |
| Brussels sprouts | 60g | 21 | 37.2 mg | 62 % |
| Spinach | 90g | 17 | 8.8 mg | 15 % |
Disclaimer
You are advised to seek medical advice before making any changes to your diet or lifestyle with an aim of weight loss. This website and the content provided should not be used by persons under 18, by pregnant or nursing women, or individuals with any type of health condition, except under the direct supervision of a qualified medical professional. The information contained in these articles, and elsewhere on this website, is provided for educational and entertainment purposes only, and is not intended to replace, and does not constitute legal, professional, medical or healthcare advice or diagnosis and may not be used for such purposes. Continue...

You should seek the advice of your physician or other qualified health provider with any questions you may have regarding a medical or wellness condition in determining whether to use or adapt the information or content provided. We make no representations or warranties concerning any treatment, action, application or usage of dietary supplements, medication, preparation or other product or service by any person following the information offered or provided within or through the website. Reliance on any information appearing on a site is strictly at your own risk. Neither we, our affiliates nor any of the officers, directors, owners, employees, agents, representatives and assigns of each will be liable for any direct, indirect, consequential, special, exemplary or other losses or damages that may result including, but not limited to, economic loss, injury, illness or death.