Healthy Eating & Omega 3 Fats
What are Omega-3 fats?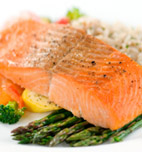 Omega-3 is the name given to a family of polyunsaturated fatty acids found naturally in oily fish and some types of seeds. They are classified as essential because the body can make its own omega-3 fats; they must be taken in through the diet.

Their benefits are thought to be numerous and wide-ranging: from reducing the risk of cardiovascular disease to limiting anti-social behaviour in teenagers. The recommended daily allowance of Omega-3 fats varies according to different reports, but around 3g per day is thought to be optimal.
What can Omega-3 fats do for you?
Improve heart and brain function
Maintain membranes of all cells
Lower blood pressure
Reduce the risk of blood clots
Reduce risk of certain cancers
What indicates a deficiency in Omega-3 fats?
Dry skin, dandruff, eczema
Inflammatory conditions and allergies
Hormonal imbalance, PMT, breast pain
Poor memory, mood swings, difficulty concentrating
Obesity and high cholesterol
Who particularly needs Omega-3 fats?
Pregnant women and mothers who are breastfeeding
Vegetarians as their body will not have access to the Omega-3 fats in oily fish
Men; studies suggest men are more vulnerable to heart disease and depression, both of which Omega-3 can help combat
Foods high in Omega-3 fats
| Food | Serving size | Cals | Amount | GDA (%) |
| --- | --- | --- | --- | --- |
| Salmon | 100g | 215 | 2.3 g | 76 % |
| Mackerel | 160g | 382 | 3.2 g | 106 % |
| Tuna | 100g | 99 | 1.6 g | 53 % |
| Sardines | 86g | 168 | 1.8 g | 60 % |
| Pumpkin seeds | 30g | 178 | 1.0 g | 33 % |
| Walnut oil | 30g | 152 | 3.4 g | 113 % |
Disclaimer
You are advised to seek medical advice before making any changes to your diet or lifestyle with an aim of weight loss. This website and the content provided should not be used by persons under 18, by pregnant or nursing women, or individuals with any type of health condition, except under the direct supervision of a qualified medical professional. The information contained in these articles, and elsewhere on this website, is provided for educational and entertainment purposes only, and is not intended to replace, and does not constitute legal, professional, medical or healthcare advice or diagnosis and may not be used for such purposes. Continue...

You should seek the advice of your physician or other qualified health provider with any questions you may have regarding a medical or wellness condition in determining whether to use or adapt the information or content provided. We make no representations or warranties concerning any treatment, action, application or usage of dietary supplements, medication, preparation or other product or service by any person following the information offered or provided within or through the website. Reliance on any information appearing on a site is strictly at your own risk. Neither we, our affiliates nor any of the officers, directors, owners, employees, agents, representatives and assigns of each will be liable for any direct, indirect, consequential, special, exemplary or other losses or damages that may result including, but not limited to, economic loss, injury, illness or death.