Healthy Eating & Iron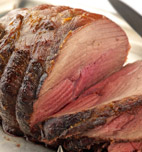 Dietary iron is a mineral and exists in two forms; non-haem iron which is found in plant foods and haem-iron which is found in animal tissues and is more easily absorbed by the body.
Iron gives blood its red colour and transports oxygen around the body. If you don't eat enough iron haemoglobin levels will drop and the blood won't be able to carry enough oxygen to the cells. This condition is known as iron-deficient anaemia and is one of the most common nutritional problems in the United Kingdom.
What can iron-rich foods do for you?
Aid the release of energy from food into your muscles
Help fight infection
Prevent anaemia
What indicates an iron deficiency?
An unnaturally pale complexion
Fatigue
Dizzy spells
Feeling breathless after only light exertion
Who particularly needs iron?
Pregnant women need twice as much iron in their diet to keep all the extra blood in their bodies healthy.
Pre-menstrual women and teenagers need extra iron to replace what is lost during menstruation.
Vegetarians may need to increase their iron intake as a vegetarian diet does not include easily absorbed haem-iron.
Iron-rich foods
| Food | Serving size | Cals | Amount | GDA (%)* |
| --- | --- | --- | --- | --- |
| Chicken Liver | 100g | 169 | 8.3 mg | 100 % |
| Mussels | 140g | 146 | 6.3 mg | 78 % |
| Kidney Beans | 1/2 cup | 284 | 2.8 mg | 35 % |
| Beef | 100g | 181 | 2.6 mg | 32 % |
| Sardines | 100g | 165 | 2.6 mg | 32 % |
| Chickpeas | 1/2 cup | 142 | 1.7 mg | 21 % |
| Bran flakes | 40g | 189 | 0.8 mg | 10 % |
* GDA = 8mg. Double for women aged 14-50. Treble for pregnant women.
Disclaimer
You are advised to seek medical advice before making any changes to your diet or lifestyle with an aim of weight loss. This website and the content provided should not be used by persons under 18, by pregnant or nursing women, or individuals with any type of health condition, except under the direct supervision of a qualified medical professional. The information contained in these articles, and elsewhere on this website, is provided for educational and entertainment purposes only, and is not intended to replace, and does not constitute legal, professional, medical or healthcare advice or diagnosis and may not be used for such purposes. Continue...

You should seek the advice of your physician or other qualified health provider with any questions you may have regarding a medical or wellness condition in determining whether to use or adapt the information or content provided. We make no representations or warranties concerning any treatment, action, application or usage of dietary supplements, medication, preparation or other product or service by any person following the information offered or provided within or through the website. Reliance on any information appearing on a site is strictly at your own risk. Neither we, our affiliates nor any of the officers, directors, owners, employees, agents, representatives and assigns of each will be liable for any direct, indirect, consequential, special, exemplary or other losses or damages that may result including, but not limited to, economic loss, injury, illness or death.