Healthy Eating & Calcium
What is calcium?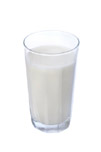 As most people know from numerous milk adverts, calcium is a mineral that is needed for the normal growth and strengthening of bones.
It is the most abundant mineral in the body, but must be obtained from the diet as the body cannot produce calcium naturally.
It is essential for growth in children, and childhood is an once-in-a-lifetime opportunity to build strong bones because bone loss occurs as a natural part of the ageing process from the mid-thirties onwards. Calcium is found most abundantly in dairy products, and the recommended daily intake is 1000mg a day.
What can calcium do for me?
Build and maintain strong teeth and bones
May help lower blood pressure
Maintain healthy muscle contraction
Maintain healthy blood clotting mechanism
What indicates a calcium deficiency?
Muscle aches, pains, cramps and spasms
Brittle bones

Contrary to popular belief and old wives' tales, white spots on nails are not an indication of calcium deficiency. They are simply signs of bruising.
Who particularly needs calcium?
Children and adolescents
Vegans, or anyone avoiding dairy products due to a lactose intolerance
Older people, particularly post-menopausal women, worried about osteoporosis
Calcium-rich foods
| Food | Serving size | Cals | Amount | GDA(%) |
| --- | --- | --- | --- | --- |
| Cheddar cheese | 40g | 165 | 288 mg | 28 % |
| Whole milk | 250ml | 165 | 276 mg | 27 % |
| Tofu | 100g | 271 | 372 mg | 37 % |
| Spinach | 90g | 17 | 122 mg | 12 % |
| Chick peas | 100g | 164 | 49 mg | 5 % |
| Natural yoghurt | 100g | 143 | 152 mg | 15 % |
| Broccoli | 110g | 26 | 44 mg | 4 % |
Disclaimer
You are advised to seek medical advice before making any changes to your diet or lifestyle with an aim of weight loss. This website and the content provided should not be used by persons under 18, by pregnant or nursing women, or individuals with any type of health condition, except under the direct supervision of a qualified medical professional. The information contained in these articles, and elsewhere on this website, is provided for educational and entertainment purposes only, and is not intended to replace, and does not constitute legal, professional, medical or healthcare advice or diagnosis and may not be used for such purposes. Continue...

You should seek the advice of your physician or other qualified health provider with any questions you may have regarding a medical or wellness condition in determining whether to use or adapt the information or content provided. We make no representations or warranties concerning any treatment, action, application or usage of dietary supplements, medication, preparation or other product or service by any person following the information offered or provided within or through the website. Reliance on any information appearing on a site is strictly at your own risk. Neither we, our affiliates nor any of the officers, directors, owners, employees, agents, representatives and assigns of each will be liable for any direct, indirect, consequential, special, exemplary or other losses or damages that may result including, but not limited to, economic loss, injury, illness or death.