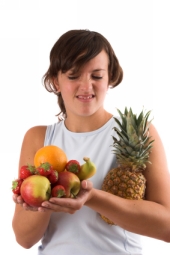 Aversion, intolerance, salad-dodging, plain-old fussy eating - call it what you like, but some people just won't eat certain foods. If the foods in question are chips, cheese and mayo then you may be onto a good thing. But if you can't eat, won't eat fresh fruit, vegetables and low fat proteins you're short changing your body of essential nutrients.
Diagnosis
It's important to establish whether you have an allergy to certain foods or just don't like them. If you think you are reacting adversely to what you eat ask for a dietician referral from your GP. A dietician will be able to tell you what foods may be upsetting you, and as it's unusual to be allergic to an entire food group, for example fresh fruits, you should be able to find some fruits that agree with you.
Tantalise your tastebuds
If you don't suffer from allergies or intolerances, you're just being a picky eater. Get over any preconceptions you might have about food by teasing and tantalising your palate with a broad range of flavours:
Experiment with different cooking methods to make foods you don't like more appealing. For example, roasted vegetables, sauted potatoes and marinated lamb kebabs are a far more exciting version of the traditional meat and two veg.
Try different herbs and seasonings to give bland dishes a whole new lease of life.
Get yourself a good simple cookery book and try to introduce one new meal a week.
When you're food shopping, pop one new item into your trolley every week and vow to try it.
If all else fails....
If you really can't convince your palate to be a bit more adventurous, start taking multi-vitamins to make sure you at least get the essential nutrients. And anecdotal evidence suggests that zinc supplements may help make your taste buds more sensitive and perhaps change your appreciation of different flavours.