How To Stop The Dreaded Side Stitches
SIDE STITCHES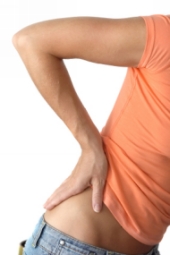 There's nothing worse than a stabbing, crippling stitch in your side that hits just as you're getting into your exercise stride. It can totally destroy the rhythm and quality of your work-out, so we've put together some ideas for beating the stealthy stitch.
What causes it
A stitch is defined as a side cramp or stabbing pain under the lower edge of the ribcage. Its occurrence is linked to strength and fitness levels, food and drink consumption, running technique, and the length and quality of your warm up.
How to stop it happening
To prevent a stitch in the future:
Improve your fitness level
Strengthen the diaphragm by using exercises such as those that aid respiratory rehabilitation
Strengthen your core muscles
Limit the consumption of food and drink to 2-3 hours before exercising. In particular, avoid drinks of high carbohydrate content and reconstituted fruit juices
Drink water beforehand to prevent muscles cramps
Warm up properly
Gradually increase the exercise intensity
Try exhaling when the left foot hits the ground, and inhale when the right foot hits the ground
Run on softer surfaces
What to do if you do get another stitch
If you do experience a side stitch again, try the following possible treatments:
Stop exercising and push into your stomach on the right side with your fingers, and then up under the rib cage. At the same time, forcefully exhale while holding your lips closely together.
Bring your running speed down and focus on your breathing till the stitch eases.
Try belly breathing, which means inhaling while pushing out your stomach and relaxing your stomach muscles on the exhale.
Stop exercising and touch your toes with your fingers. This moves the liver away from the diaphragm.
Breathe on different steps
Reduce the frequency of breathing. For example, while jogging inhale for four steps and then exhale for four steps
The quick success of the above treatments will depend on what has caused a particular stitch so try all the methods till you get one that works!
Disclaimer
You are advised to seek medical advice before making any changes to your diet or lifestyle with an aim of weight loss. This website and the content provided should not be used by persons under 18, by pregnant or nursing women, or individuals with any type of health condition, except under the direct supervision of a qualified medical professional. The information contained in these articles, and elsewhere on this website, is provided for educational and entertainment purposes only, and is not intended to replace, and does not constitute legal, professional, medical or healthcare advice or diagnosis and may not be used for such purposes. Continue...

You should seek the advice of your physician or other qualified health provider with any questions you may have regarding a medical or wellness condition in determining whether to use or adapt the information or content provided. We make no representations or warranties concerning any treatment, action, application or usage of dietary supplements, medication, preparation or other product or service by any person following the information offered or provided within or through the website. Reliance on any information appearing on a site is strictly at your own risk. Neither we, our affiliates nor any of the officers, directors, owners, employees, agents, representatives and assigns of each will be liable for any direct, indirect, consequential, special, exemplary or other losses or damages that may result including, but not limited to, economic loss, injury, illness or death.