Choosing a Fitness DVD for Weight Loss
A Great Home Work Out!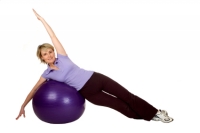 Fitness DVD's are a great way to burn calories without even having to leave the house! With so many choices the fitness DVD market can be slightly daunting, so the key to successful buying is to know what your preferences (with relation to type of exercise styles) are! If you have no preferences and simply want to burn as many calories as possible then we recommend workouts that focus on a high-energy aerobic-style component as well as a 'muscle toning' component.
What determines the amount of calories burned?
The effectiveness of your work out and the calories burned depends on a variety of factors. These are:
The type of activities that makes up the content of the DVD - the more time dedicated to aerobic-style, high intensity movement (i.e. boxercise style, dance, step) the higher the potential calorie burning. Time given to yoga/pilates/stretching will be time spent at a lower intensity, demanding fewer calories.
Personal level of fitness - if someone is a beginner to exercise or to the specific workout, they could potentially find the workout more demanding and so use up more calories. As we adapt and become more efficient at the workout through consistent use, so the calorie demand will drop. Vary your exercise routine to combat this.
The quality of techniques - if someone has good technique and can activate the right muscle groups then they will burn up more calories than someone who is cheating themselves on some of the movements / holds.
Calorie Burning
Name of DVD
Time
Calories burned
Billy Banks' Boot Camp Set:
Mission One - Getting Started
53 minutes
330 - 390 cals
Mission Two - Maximum Power
53 minutes
340 - 400 cals
Mission Three - Rock Solid Abs
38 minutes
190 - 240 cals
Gunnar Peterson Core Secret Workout
60 minutes
300 - 320 cals
Joanna Hall's 28 Day Total Body Plan
90 minutes
400 - 430 cals
Kim Ryder's Burn and Firm Workout
75 minutes
380 - 450 cals
Vanessa: If I Can, You Can
60 minutes
300 - 350 cals
Vicky Entwhistle's WoW DVD
40 minutes
370 - 450 cals
Zoe Lucker's Little Black Dress Workout
50 minutes
350 - 380 cals
Exercise preferences
If you like dancing......Try Latin American Dancing Workout by Lilia Kopylova. It is split into five dancing parts and each section targets a different area of the body.
If you need to fit exercise into a busy lifestyle...... Try Davina McCall; 30-Minute Workouts. Good length 30min sessions that are realistic to people's lifestyles. However there is poor technique on some exercises, and it does not take account of different fitness levels of potential viewers.
If you want to blitz love handles......Try Billy Blank's Rock Solid Abs. Billy has incorporated great isolation moves and a floor routine, which will get your heart pumping as you burn tons of calories and work those abs.
If you like using Swiss exercise balls......Try Roll off the pounds - Aerobic Gymball Workout (2005) by Lucy Knight. This DVD takes you through a warm up, a full aerobic routine, a fat burning circuit, tummy toning and a stretch.
Disclaimer
You are advised to seek medical advice before making any changes to your diet or lifestyle with an aim of weight loss. This website and the content provided should not be used by persons under 18, by pregnant or nursing women, or individuals with any type of health condition, except under the direct supervision of a qualified medical professional. The information contained in these articles, and elsewhere on this website, is provided for educational and entertainment purposes only, and is not intended to replace, and does not constitute legal, professional, medical or healthcare advice or diagnosis and may not be used for such purposes. Continue...

You should seek the advice of your physician or other qualified health provider with any questions you may have regarding a medical or wellness condition in determining whether to use or adapt the information or content provided. We make no representations or warranties concerning any treatment, action, application or usage of dietary supplements, medication, preparation or other product or service by any person following the information offered or provided within or through the website. Reliance on any information appearing on a site is strictly at your own risk. Neither we, our affiliates nor any of the officers, directors, owners, employees, agents, representatives and assigns of each will be liable for any direct, indirect, consequential, special, exemplary or other losses or damages that may result including, but not limited to, economic loss, injury, illness or death.