100 calorie snack ideas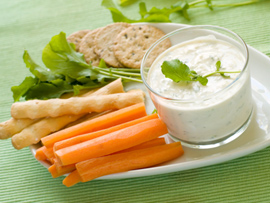 Do you ever find you're left with a few calories at the end of the day and get stuck for ideas on how to 'spend' them? Help is at hand!
We've come up with 10 healthy snacks which are 100 calories or less, and 10 treats which are also 100 calories or less - depending on what mood you are in! You'll get much more food for your calories (in terms of volume) with the healthy snacks, but we know like you, that sometimes nothing quite hits the spot like a bit of chocolate!
100 calorie healthy snacks:
300g raw carrot sticks
Salad made of ½ bag mixed salad, 6 cherry tomatoes, cucumber, yellow peppers, 3 spring onions and a tablespoon of light French dressing.
100g strawberries with a low fat yogurt (75 calories max, e.g. Activia 0% fat yogurt)
160g of grapes
130g king prawns (great for helping you feel fuller for longer)
½ pot of tomato salsa, 100g carrots, 100g cucumbers, ½ medium pepper cut into sticks
Fruit salad made with 100g raspberries, 100g strawberries, 1 medium kiwi fruit and 1 medium satsuma
3 x large satsumas
6 x mugs of tea / coffee with semi-skimmed milk and low calorie sweetener
2 x Ryvita dark rye with 1 Laughing Cow Light triangle and 4 sliced cherry tomatoes
100 calorie treats:
20g Dairy Milk (approx 3 squares)
2 x McVitties Jaffa cakes / 2 x rich tea biscuits
1 small scoop of ice cream (approx 50g)
6 x oven chips
25g yogurt coated raisins
1 tbsp peanut butter (don't forget to add the toast you spread it on to your Food Diary)
25g cheese
1 small tbsp butter (enough for 2 slices of bread)
1 small coffee shop latte
1/3 of a Mars bar (this one is for the strong of willpower, your challenge being not polish off the rest!)
Disclaimer
You are advised to seek medical advice before making any changes to your diet or lifestyle with an aim of weight loss. This website and the content provided should not be used by persons under 18, by pregnant or nursing women, or individuals with any type of health condition, except under the direct supervision of a qualified medical professional. The information contained in these articles, and elsewhere on this website, is provided for educational and entertainment purposes only, and is not intended to replace, and does not constitute legal, professional, medical or healthcare advice or diagnosis and may not be used for such purposes. Continue...

You should seek the advice of your physician or other qualified health provider with any questions you may have regarding a medical or wellness condition in determining whether to use or adapt the information or content provided. We make no representations or warranties concerning any treatment, action, application or usage of dietary supplements, medication, preparation or other product or service by any person following the information offered or provided within or through the website. Reliance on any information appearing on a site is strictly at your own risk. Neither we, our affiliates nor any of the officers, directors, owners, employees, agents, representatives and assigns of each will be liable for any direct, indirect, consequential, special, exemplary or other losses or damages that may result including, but not limited to, economic loss, injury, illness or death.