A natural way to help speed up weight loss' and 'Extreme fat burning agent' are just some of the strap lines you'll see on weight loss supplement packaging – and don't they sound appealing? Weight loss supplements tend to make weight loss sound easy – you just take a pill and the weight will start to fall off. Needless to say, it's a popular business, as who wouldn't like losing those pesky few lbs to be that bit faster and easier? But in reality, how many of the various dietary and weight loss supplements that are out there achieve what they promise to?
We're often asked about the safety and effectiveness of weight loss supplements, so I thought I'd do a round-up of some of the most popular ones. I asked our members for their feedback on which supplements they'd tried, and which they'd like to know more about, and below is what I found!
Raspberry ketones
What are they?
Raspberry ketones are an organic chemical compound found in red raspberries.
What do they claim to do?
The reason they are marketed as a weight loss aid is because they are considered to speed up fat metabolism in the body.
What does the evidence say?
Currently there has been no research conducted in humans to support these claims or to identify the mechanism for weight loss. There have been a few studies in rats with varying results, but there is no solid scientific evidence to support the claim that raspberry ketones aid weight loss. There are also no studies to establish the possible side effects from taking these supplements long term.
In fact raspberry ketones have been highlighted by the Food Standards Agency (FSA) as an unauthorised novel food which is not approved for sale in the UK. However the FSA does not currently have the resources to enforce this on companies.
Our verdict?
We wouldn't recommend taking raspberry ketones as they are not guaranteed to be safe to use. Although individuals might see some weight loss, it may or may not be due to the tablets. It may in fact be both a waste of money and harmful to your health.
CLA
What is it?
CLA or conjugated linoleic acid is an omega-6 fatty acid.
What does it claim to do?
It's considered by some to have health benefits including...
aiding fat loss
acting as an aid to bodybuilding
decreasing blood pressure
reducing the risk of developing some cancers
What does the evidence say?
Some animal studies have indicated that CLA may help reduce body fat – however this has not been shown in studies with humans. Neither is there any sound scientific evidence to support the other 'health benefits' in humans.
Our verdict?
The safety of using CLA over time is also not known, and it has been linked to possibly worsening diabetes. CLA is not a supplement we would recommend taking.
Green tea
What is it?
Green tea is a tea made from Camellia sinensis leaves – like other teas. However it's thought to be particularly healthy because it undergoes limited processing, so many of its naturally occurring antioxidants are still present.
What does it claim to do?
There are various health claims surrounding green tea. It's believed to help boost weight loss, reduce cholesterol, fight cancer, help manage diabetes and reduce blood pressure.
What does the evidence say?
Green tea is packed full of antioxidants, namely one called epigallocatechin gallate (EGCG), so it certainly is a good addition to our diets. In terms of the health claims, there is evidence to support the fact that green tea can help to reduce cholesterol levels. However when it comes to the other health claims, there is only very weak scientific evidence to support these.
When it comes to weight loss, it is claimed that green tea can help to speed up fat metabolism. However the research shows very mixed results. Weight loss supplements tend to contain green tea extract, with much higher concentrations of EGCG than standard green tea. At this stage it's unclear which dosage of green tea would be necessary to cause an effect, more than likely it's a much higher dosage than you would get from drinking a few cups of green tea a day. But the possible side effects of high doses of green tea extract are not yet known.
Our verdict?
Including a few cups of green tea in your diet certainly won't do you any harm, so we say go for it. There have been some reported side effects in rare cases such as headaches and stomach upsets, but these are uncommon. It is possible green tea can interact with certain medications, so always check with your doctor before trying anything new.
Alli
What is it?
Alli is a medication which can be bought without prescription. It is essentially a lipase inhibitor which means it reduces the amount of fat our intestines absorb from the foods we eat.
What do they claim to do?
Alli reduces the amount of fat absorbed from the diet. This can lead to weight loss as fewer calories are 'consumed' as a result.
What does the evidence say?
This medication does do what it says, and can be recommended by doctors to people who are overweight and have struggled to lose weight on their own. It should however, only be used alongside a healthy diet and lifestyle. Consuming high fat meals can lead to very unpleasant side effects – so taking this medication is not an excuse to eat whatever you like.
Our verdict?
Alli can be helpful in some cases, if traditional weight loss methods haven't worked well. But always consult your doctor before taking this medication.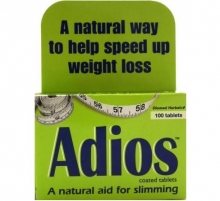 Adios
What is it?
Herbal diet pill containing seaweed extract, dandelion root, butternut and boldo extract.
What do they claim to do?
Claims to increase fat metabolism and boost weight loss due to its natural and traditional ingredients.
What does the evidence say?
There aren't any published scientific research studies to support the role of Adios in weight loss. Some users have claimed that it aids weight loss, but without controlled clinical trials it's impossible to know what the real cause of any weight loss is. Some of the ingredients in Adios act as a natural laxative and diuretic, which can go some way to explain any weight loss experienced. It's unlikely that this product actually results in any fat loss.
Our verdict?
We wouldn't recommend using Adios, as the weight loss claims are unsupported by sound scientific evidence and there are reports of unpleasant side effects.
Miniv nutrition
What is it?
Dietary supplements to help aid a healthy diet and exercise regime.
What do they claim to do?
There are various products in the range for example mini burn, mini detox and mini collagen. For the purpose of this review I'll focus on the supplement aimed at weight loss – mini burn. This is supposed to be used as a workout aid to help improve alertness and claims to boost metabolism. Mini burn contains caffeine, green tea, cayenne, acetyl carnitine, bioperine (black pepper extract) and niacin. These are all natural ingredients which have all been associated with increased fat burning and alertness – rightly or wrongly!
What does the evidence say?
There are no scientific studies which have been conducted on the minv nutrition range, so it's not possible to say whether they aid weight loss or not. The ingredients are quite standard and are similar to other products on the market. It's possible this supplement may give you a boost, which may help you to exercise more effectively. But it's unlikely this product will directly result in increased weight loss.
Our verdict?
The mini burn supplements are not likely to do you any harm if taken at the recommended doses and they may give you a slight energy boost. But if you're hoping to have increased weight loss due to this supplement, we say save your money.
Acai
What are they?
Acai berries are a fruit which are very high in antioxidants – as are other berries.
What do they claim to do?
Claim to help boost weight loss, and help to protect against a host of diseases such as heart disease and cancer.
What does the evidence say?
While it's true acai berries are high in antioxidants and therefore can be beneficial to our general health, there is no evidence to support the weight loss claims. There is no clear mechanism of action proposed and there haven't been any conclusive scientific studies to support the notion that they aid weight loss.
Our verdict?
By all means include as part of a healthy balanced diet, but if you plan on buying an acai supplement to boost weight loss – save your money.
Thermobol and Infernos
What are they?
Weight loss and exercise supplements designed to boost exercise potential and fat burning
What do they claim to do?
Claim to aid 'fat burning' which leads to better exercise performance and increased weight loss. Both Thermobol and Infernos are very similar and contain similar key ingredients – Bitter orange peel, L-Tyrosine, Caffeine, Green Tea Extract 100mg, Guarana seed powder 12mg, Bioprene 5mg, D-Biotin 180μg, Chromium Polypeptide 100μg.
What does the evidence say?
There have been no clinical control trials looking at the effect of thermobol/infernos and weight loss, so it's not known whether these are effective. In terms of the individual ingredients these are all associated with aiding weight loss, but the evidence is very much inconclusive at this stage. There is no sound scientific evidence to confirm the claims that these ingredients may help to boost weight loss.
Consumer reviews are quite often positive and report increased energy and alertness. However these products contain a LOT of caffeine so it's not surprising people feel alert after taking them!
Our verdict?
There haven't been any controlled trials using these products to establish the benefits or the side effects. The ingredients in these products are used in very high doses which can impact negatively on some users. We would not recommend taking this product, as the safety of use cannot be guaranteed.
T5's
What are they?
Thermogenic fat burner containing bitter orange peel, caffeine, phenylethylamine, green tea, guarana and N-Acetyl-L-carnitine
What do they claim to do?
Claim to help burn fat, boost energy and suppress appetite. T5's used to contain ephedrine until it was banned. They have since replaced this with bitter orange peel which has been claimed to have a metabolism boosting effect.
What does the evidence say?
Looking at the main, active ingredients independently, bitter orange peel has been associated with increasing metabolism but there is inconsistent evidence to support this. While some studies have reported increased weight loss while taking supplements containing bitter orange peel, others have found no effect. Phenylethylamine is a neurotransmitter which is often used in drugs to treat depression; however the jury is still out on its weight loss effects. It's been shown that large doses are needed orally in order to have an impact on the central nervous system, but large doses can also have very negative side effects such as hallucinations.
Our verdict?
While some users have given T5's good reviews and vouched for their effectiveness, others have reported unpleasant side effects. T5's can cause headaches, insomnia, nervousness and high blood pressure. They are also meant to be used alongside a reduced calorie diet and exercise routine in order to be effective – so are not a wonder pill! We say steer clear of these for now, as the possible harmful effects of long term use are not yet known.
Something to consider!
Whilst researching these various supplements I was contacted by a member who works for Trading Standards. They mentioned that diet supplements are a huge issue at the moment with certain companies taking money from people without permission. I'm not sure exactly which companies these are and can't say if any of the supplements reviewed in this blog are among them – but it's just something to be aware of as a consumer. Be wary of products which make big claims – as the saying goes 'if it sounds too good to be true – it probably is!'
In summary
All in all, very few of the above supplements are backed by sound scientific evidence. And of the supplements which may help to increase weight loss, most tend to come with some pretty nasty side effects! We say, save your money and stick to the Nutracheck way – safe effective weight loss, with no banned foods and no need for supplements!
*Note – If there is any new or emerging evidence on any of the supplements mentioned here which we have missed, please comment below – we're more than happy to take a look.