Crunchy oat clusters with peach and yogurt
Serves 6 - 298 kcals per serving
| | |
| --- | --- |
| Kcals | 298 |
| Fat | 12.3g |
| Sat fat | 4.5g |
| Carbs | 38.0g |
| Sugar | 12.8g |
| Fibre | 6.2g |
| Protein | 10.8g |
| Salt | 0.16g |
---
Ingredients
50g (about 7) soft ready-to-eat dried apricots (we used Crazy Jack organic, because they are sulphur-free)
½ tbsp rapeseed oil
3 large eggs, whites only (see tip to use up the yolks)
200g porridge oats
1 tbsp cinnamon
1 tbsp vanilla extract
25g desiccated coconut
25g flaked almonds
25g pumpkin seeds
3 x 120g pots bio yogurt
3 peaches, to serve
Method
Heat oven to 180°C/160°C fan/gas 4 and line a large baking tray with baking parchment.
Tip the apricots, oil and egg whites into a bowl (see tip box for how to use up the egg yolks), then blitz with a hand blender until very smooth. Stir in the oats, cinnamon and vanilla, then fold through the desiccated coconut, almonds and pumpkin seeds.
Pinch clusters of the mixture together to create texture in the granola, then scatter over the lined baking tray in a single layer. Bake for 15 mins, then toss (turning the larger pieces) and bake for a further 10 mins until golden and crunchy.
Cool the granola completely on the tray, then pack into a large airtight jar or container. If you're saving two portions, serve two portions over three days, filling the base of each bowl with yogurt (½ pot for each portion) and topping with half a peach, sliced.
USE UP THE EGG YOLKS
Don't throw away the egg yolks – freeze for another day. Use in scrambled eggs, omelettes and to enrich mashed potatoes.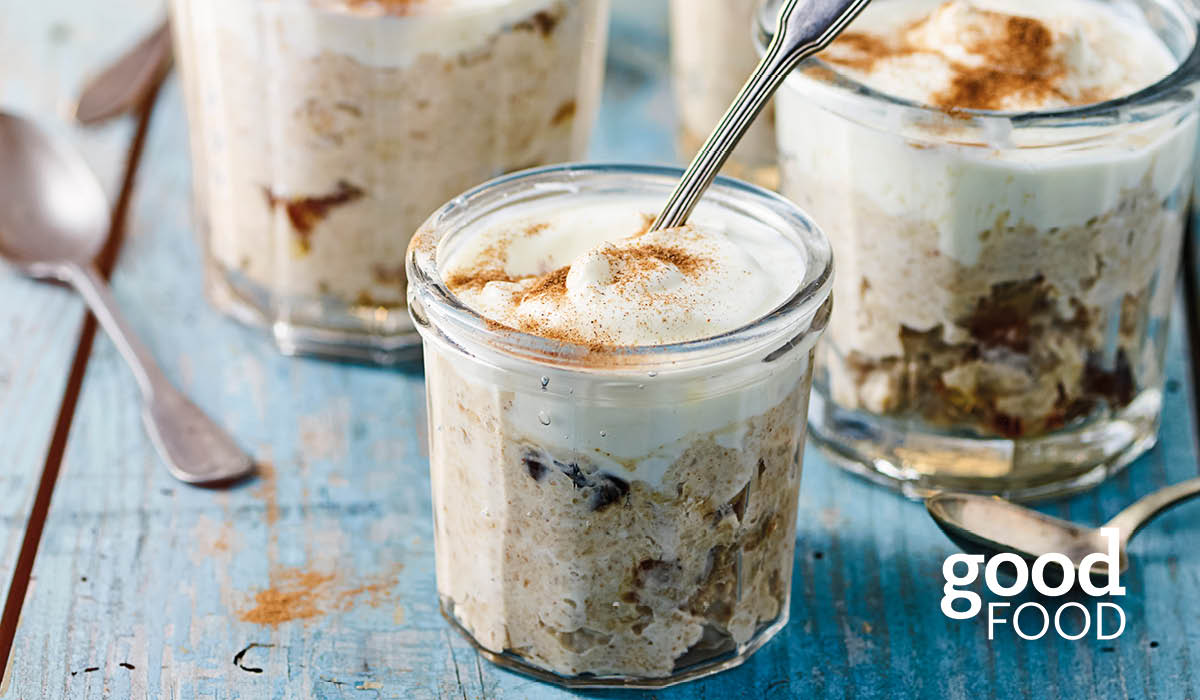 Peanut butter and date oat pots
Serves 6 - 300 kcals per serving
| | |
| --- | --- |
| Kcals | 300 |
| Fat | 13.0g |
| Sat fat | 4.6g |
| Carbs | 33.6g |
| Sugar | 11.2g |
| Fibre | 4.3g |
| Protein | 12.4g |
| Salt | 0.15g |
---
Ingredients
180g porridge oats
75g 100% crunchy peanut butter
40g stoned medjool dates, chopped
2 tsp vanilla extract
5 x 120g pots plain bio yogurt (or 600g from a large pot)
Ground cinnamon, for dusting
Method
Tip the oats into a large bowl and pour over 600ml boiling water. Add the peanut butter, dates and vanilla and stir well. Cool, then stir through 240g of the yogurt. Dilute with a small amount of water if the consistency is a little stiff.
Spoon into six glasses, then top with the remaining yogurt and dust with cinnamon. Cover each glass and keep in the fridge until ready to eat. Will keep well for up to five days.
Egg and tomato baps
Serves 2 - 324 kcals per serving
| | |
| --- | --- |
| Kcals | 324 |
| Fat | 15.5g |
| Sat fat | 3.7g |
| Carbs | 28.7g |
| Sugar | 4.1g |
| Fibre | 4.0g |
| Protein | 19.0g |
| Salt | 0.93g |
---
Ingredients
2 tsp olive oil
4 eggs
Couple sprigs parsley, chopped
1 garlic clove, finely chopped
2 wholewheat baps
Method
Brush the cut side of the tomatoes with a little of the oil then cook them on a low heat, cut-side down in a small, non-stick frying pan. While they cook, beat the eggs with seasoning and the chopped parsley in a small bowl. Turn the tomatoes over to briefly heat on the other side and then set aside.
Wipe the pan, then add the remaining oil and cook the garlic on a medium heat for a few seconds, stirring all the time until softened. Pour in the egg mixture and cook, stirring occasionally over the heat. Once it's almost set flip over to cook the other side for a few seconds more.
Halve the baps and squash on the tomatoes, quarter the omelette and serve, 2 pieces inside each bap.
Popcorn muesli
Serves 4 - 333 kcals per serving
| | |
| --- | --- |
| Kcals | 333 |
| Fat | 15.2g |
| Sat fat | 3.6g |
| Carbs | 37.3g |
| Sugar | 9.8g |
| Fibre | 5.1g |
| Protein | 12.2g |
| Salt | 0.37g |
---
Ingredients
100g porridge oats
2 tbsp toasted three-seed mix (ours included flaxseed and pumpkin and sunflower seeds)
40g plain or lightly salted popcorn
30g sultanas
6 walnut halves, broken up
4 x 120g pots bio yogurt
Optional milk, to serve
Method
Combine the oats, seed mix, popcorn, sultanas and walnuts. Will keep in a sealed jar or airtight container for up to five days.
When you're ready to serve, spoon the yogurt into bowls, then scatter over the muesli and pour over a little milk to loosen, if you like.
Chia & oat breakfast scones with yogurt and berries
Serves 4 - 346 kcals per serving
| | |
| --- | --- |
| Kcals | 346 |
| Fat | 13.2g |
| Sat fat | 5.3g |
| Carbs | 45.0g |
| Sugar | 12.0g |
| Fibre | 10.3g |
| Protein | 11.3g |
| Salt | 0.14g |
---
Ingredients
2 tsp cold pressed rapeseed oil, plus a little for the ramekins
50ml milk
1 tbsp lemon juice
2 tsp vanilla extract
160g plain wholemeal spelt flour
2 tbsp chia seeds
25g oats
2 tsp baking powder
2 x 120g pots bio Greek yogurt
400g strawberries, hulled and sliced
Method
Heat oven to 200°C/180°C fan/gas 6 and line the base of 4 x 185ml ramekins with a disc of baking parchment and oil the sides with the rapeseed oil. Measure the milk in a jug and make up to 300ml with water. Stir in the lemon juice, vanilla and the 2 tsp oil. Mix the flour, seeds and oats then blitz in a food processor to make the mix as fine as you can. Stir in the baking powder.
Pour in the liquid, then stir in with the blade of a knife until you have a very wet batter like dough. Spoon evenly into the ramekins then bake on a baking sheet for 20 mins until risen – they don't have to be golden but should feel firm. Cool for a few mins then run a knife round the inside of the ramekins to loosen the scones then carefully ease out.
The scones can be eaten immediately or cooled and stored for later.
Article provided by BBC Good Food