2021 saw the pandemic continue to drive diet and nutrition trends, as many of us turned to food for wellness, comfort, and entertainment through the lockdowns (we're looking at you, banana bread). So, what's in store in 2022? Here are my top 5 predictions!
The rise of flexitarianism
In the last five years, veganism has seen an unprecedented surge in popularity, and it doesn't look like our interest in animal-free foods is going anywhere in 2022. Although veganism is here to stay, with a record 582,500 sign-ups to Veganuary in 2021 (this year could beat that), many of us are exploring a more part-time plant-based approach.
Enter the 'flexitarian' lifestyle. Also referred to as reductarianism and climatarianism, the premise of the diet is finding ways to cut down on meat and dairy product consumption in favour of plant-based alternatives, without eliminating them altogether (so don't panic about having to give up your bacon sandwiches completely!).
Many studies support the diet, both from a health and environmental perspective. Plant-based foods are rich in a plethora of essential nutrients, while also being naturally low in saturated fat, meaning they have long been associated with reduced risk of heart disease, diabetes, and some cancers. On top of that, the carbon emissions generated by their production is a fraction of that of meat and dairy – it's a win-win!
Since the start of the Covid-19 pandemic, 1 in 4 Brits have reported reducing their consumption of animal products. With many half-meat-half-veg products hitting the shelves, reducing our animal product intake along with our environmental impact has never been easier.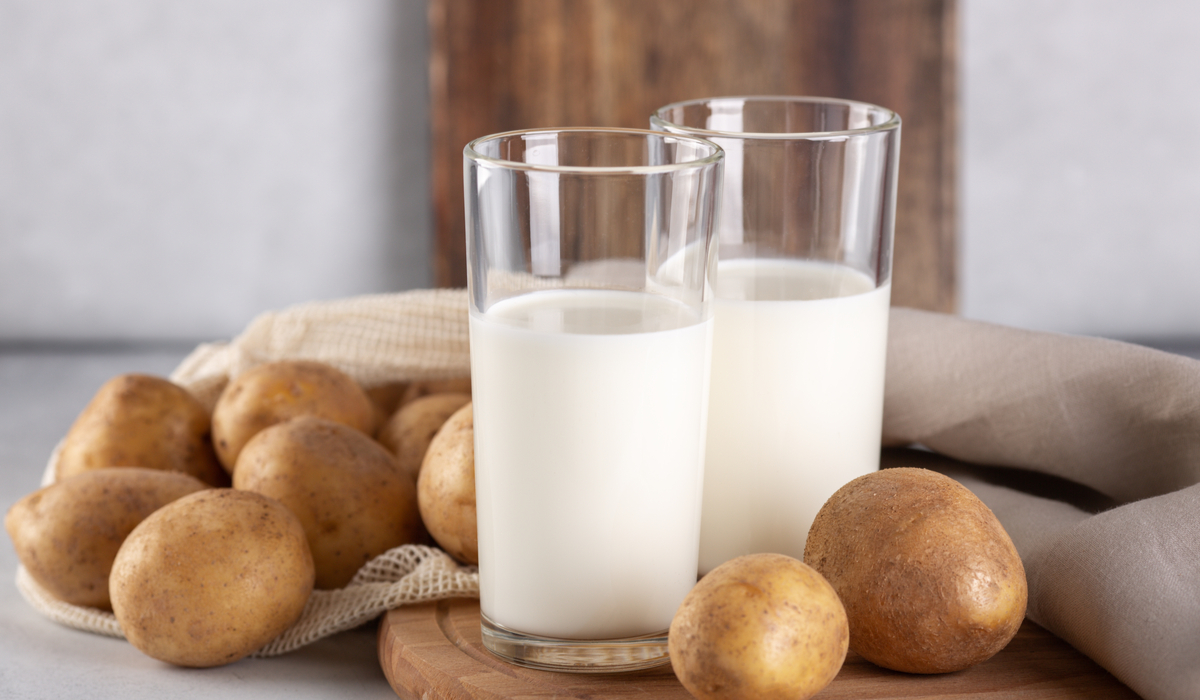 More milk alternatives – including potato milk??
The vegan milk alternatives market continues to show growth year after year. In the UK, 1 in 3 of us now regularly drink an alternative milk, up from 1 in 4 in 2020. And in 2020, we spent £395m on plant milks, 32% more than the previous year. This makes us the largest consumer of alt milks in Europe.
Soy, oat, almond, hazelnut, cashew, macadamia, rice, pea, and hemp to name a few, we're really spoiled for choice when it comes to vegan milks. And now, the market welcomes a new entry for 2022 – milk made from potatoes! Swedish-based brand DUG are the first brand to launch this innovative alternative. It's great to see DUG fortify their potato milks with vitamin D and calcium too! It's important to look out for alt milks fortified with calcium, iodine and B vitamins especially, as these nutrients are naturally present in dairy milk. Cow's milk isn't generally fortified with vitamin D in the UK – but you will find many alt milks will be fortified with vitamin D, which is a bonus. DUG are due to launch their products in Waitrose stores across the UK in the new year.
Booze-free beverages and low-cal drinking
The pandemic has had a varied effect on the nation's drinking habits. While some people have increased their alcohol intake with the reopening of our pubs and bars, others have continued the momentum of the healthy habits picked up during lockdown (think, the 'drysolation' trend) and are now looking for no- and low-alcohol beverages. The beverage industry has picked up on this, with emerging booze-free versions of beer, wine, gin and more of our favourite drinks, as well as premium bottled mocktails. IWSR Drinks Market Analysis predicts that the non-alcoholic alternatives sector will see growth of 35% by 2023.
Even for those who aren't quite on board with the idea of going sober, the health-conscious trend runs through to boozy drinks too. Low-calorie options, such as hard seltzers (fizzy flavoured waters with vodka), have taken the US market by storm. Now they've reached UK shelves, so we can expect to see similar low-cal alcoholic products launching throughout 2022. For more on Hard Seltzers, read our nutritionist Emma's review here.
Eating for immunity
In the wake of the pandemic, consumers within the UK and across the globe have turned to their diets as a means of fostering a healthy immune system. A survey by Innova Market Insights found that six in 10 consumers across the globe are actively shopping for immune-supporting food and drinks. The survey also found that 54% of consumers claimed that due to the pandemic, they had spent time learning about the ingredients that could boost their immune health. Key nutrients of interest include vitamin D, vitamin C, zinc, and magnesium.
Additionally, thanks to the ever-growing consumer interest in gut health, expect to see an increased offering of products with marketing claims for added prebiotics, probiotics, and botanicals – especially in the form of functional beverages.
Home entertaining
Being forced to stay indoors through all three lockdowns gave us Brits the opportunity to fall back in love with our homes again. More of us have been trying our hand at cooking and baking, so entertaining family and friends at home could become a big trend next year.
Alfresco dining has also grown in popularity following the rise in garden gatherings as we phased out of lockdown. According to the Waitrose Food & Drink Report, 1 in 5 survey respondents said they'd bought a new barbecue, and 1 in 10 had invested in an outdoor bar. Even though we're now able to meet indoors again, outdoor dining is set to remain popular into 2022. Who wouldn't love an outdoor kitchen like Saturday Kitchen's James Martin?!
Nutritionist Amy Wood (ANutr), MSci BSc Nutrition has a keen interest in the relationship between diet and health. Having been published in the European Journal of Nutrition, Amy is passionate about making evidence-based nutrition accessible to everyone and helping others to adopt a food-focused approach to taking control of their health.