Warm Turkey & Pasta Salad
Serves: 4
Per Serving
Cal
Fat

g

Carb

g

Prot

g

267
5.1

g

25.7

g

31.2

g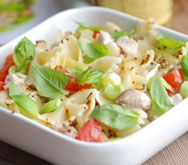 Ingredients:

1 tbsp olive oil
450g turkey stir fry strips
2-3 garlic cloves, peeled and crushed
1 green pepper, deseeded and chopped
1 tsp chilli powder
1 tbsp grated orange rind
1 tbsp lemon rind
225g pasta shapes, freshly cooked
100g cherry tomatoes, halved
4 tbsp orange juice
1 tbsp lemon juice
2 tsp clear honey
salt and freshly ground black pepper to taste
salad leaves to serve

Method:

1. Heat 1 tbsp of the oil in a wok or large pan and stir fry the turkey and garlic for 3 minutes, or until the turkey is sealed.
2. Add the green pepper and chilli powder and continue to stir fry for a further 2 minutes.
3. Add the grated orange and lemon rind, cooked pasta, tomatoes, fruit juices and honey, and continue to stir fry for 2/3 minutes until the turkey is thoroughly cooked.
4. Season to taste and serve on a bed of assorted salad leaves.