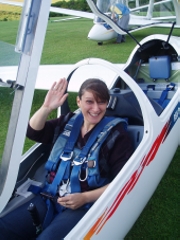 Losing weight is hard work, but once you've achieved your goal, what then? We talk to Denise Green one year on from losing over 5 stones with Nutracheck about her experience of keeping the weight off.
Well, it's one year on since you reached your goal - in what ways has losing the weight affected your life?
How long have you got? It's been a strange but amazing year, full of little triumphs and big achievements, as I've started to learn to live with the new me. There are definite physical differences - for example, I always used to lie awake for at least 15 minutes every night, before I'd fall asleep, but now I generally nod off within a couple of minutes and I sleep much better than I used to.
I don't get as many colds and when I do, I'm able to fight them off much more quickly. I've got so much more energy, and look upon chores like going to the Post Office as an opportunity to rack up some more steps, rather than driving. My skin in much better, and at the risk of sounding like a Cruft's finalist, I've also got glossier hair!
I feel more confident, more willing to try new things and more willing to do things that might push me into the spotlight. In a nut-shell, it's affected every aspect of my life - which makes sense when you think about it, as being overweight also affected every aspect of my life!
What have the highlights been?
Just feeling 'normal'! Knowing that people aren't staring at me because of my size, and knowing that I can fit through gaps, perch on the corner of a desk or stand on a chair to reach something without causing mass destruction! Buying clothes- skirts, shorts and strappy tops in the summer and oh, joy of joys, knee length boots in the winter!
Being swept off my feet, Officer and a Gentleman style, by a sailor in a pub in Windsor!
Being able to just sit down on an airplane, pick up the seatbelt and do it up, rather than pulling it out to its longest length, and being able to wrap a hotel towel all the way around myself rather than complaining about how tiny hotel towels are!!
Sitting on someone's lap when there weren't enough chairs (any excuse these days!)
In terms of new experiences, I've done an aerial adventure day, gliding and Zap-catting (power boats where you need to wear a skin tight dry suit!) horse riding, mountain biking, and I finally plucked up the courage to go on a motorbike for the first time in my life.
I also went ice-skating for the first time in 20 years and didn't have to worry about falling over and cracking the ice, or needing a crane to winch me back up if I fell (which I didn't, hurrah!).
Finally, and most importantly, I completed the 5k Race For Life in July and I ran the whole thing!
Have there been any difficult times and how did you deal with them?
Hmm, this is an interesting one! I finally fell in love for the first time this year and it was everything I thought it would be. Sadly, circumstances meant that we can't be together any more (at least not at the moment) and that was devastating for both of us. I went through a real low patch, feeling very depressed and upset, and although I've been down before, I couldn't understand just why I was finding it so hard this time - why I was finding it so difficult to cope with all the emotions that I was feeling. And then I realised.
In the past, when anything bad happened, I would just bury my problems under a pile of food! Feeling upset? A cake would make me feel better, and a whole packet would make me feel just fine! Feeling a bit poorly? A family bag of crisps and some chocolate took care of that! Weepy and emotional? A nice big Indian takeaway was just the ticket!
But I can't do that anymore. I can't consciously reach for those foods, and eat all of those calories, knowing that my whole day's allowance would be blown in a 20-minute binge. That's when the real point of what I'd been doing for the last year sank in. It wasn't just about losing weight, it was about becoming more conscious not just of what I was eating, but also when and why. And much as I wanted to give in and have those chips, I just couldn't!
There was no way I was going to start going down that slippery slope, and so I stayed strong, but that meant I actually had to deal with the feelings and emotions instead of burying them under a pile of junk food. That's why it hurt so much, but guess what? I survived and I will again! And feeling depressed in size 14 jeans is a lot better than feeing depressed in size 20 jeans, let me tell you!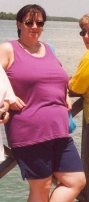 How easy have you found it to maintain your new weight?
Sorry guys, much as I'd love to say 'oh, dead easy, piece of cake (if you'll pardon the pun), the truth is, it's been hard, much harder than I expected and this is where keeping up with the food diary and pedometer has saved my life on more than one occasion!
The fact is, for me, losing the weight was the easy bit. It was new, it was exciting, I had the weekly buzz of getting on the scales and seeing the pounds dropping off, I had the constant encouragement of friends and family and the total high of seeing the reaction from people that hadn't seen me for a while.
But now everyone's seen me, everyone knows what I've achieved, and whilst they're all still delighted for me, it's kind of 'old news' now, so I haven't got that feeing of excitement the whole time. And there was a moment when I sort of stood there and thought 'now what?' It's like you've reached the end of a journey, but instead of being able to go back to your old ways, you can't - you don't want to, anyway. You have to go forward, but it is hard.
The novelty has worn off and you realised that this is it for life. I've certainly re-educated my body and my mind over the last year, but the habits and the tendencies are still there, I've just learned to control them. And so I've carried on keeping my food diary every day, and I still wear my pedometer, so that I can make sure I don't start slipping into bad habits!
I'm not a saint, and the fact that I'm maintaining my weight instead of losing it means that I can eat a lot more now, but then again, I'm also a lot more active now, so that means that I can eat more without putting on weight. I just make sure that I eat healthily most of the time and let the 'naughty' foods be a treat, rather than the norm.
What advice would you give to someone who manages to lose weight but then struggles to keep it off?
I carry my 'before' and 'after' photos around with me constantly and look at them often, just to remind myself of what I used to look like. I sold or threw out all my clothes as each size became too big for me. That way, I didn't have the security blanket of knowing that it wouldn't matter if I put some weight back on. Now I know that there's no way I'm going to go out and buy bigger clothes - I've worked too hard to get to this size. And most importantly, I keep doing my food diary every day and I still wear my pedometer all the time.
It's become a way of life and it's shockingly easy to slip into bad habits of not counting things and 'guesstimating' how many calories are in something. A friend of mine that uses the website told me that there are lots of people who reach their target and then leave the website.
That seems like a pretty bad idea to me, as I know now from experience, you need the support and guidance just as much for maintenance as for when you are losing. I didn't put on weight overnight - it took years of dedicated crisp chomping, chocolate guzzling and doughnut devouring to get so overweight! And in the past, when I've lost weight, I've pretty much gone back to my old ways once I've achieved my target, and slowly but surely the weight has gone back on.
This time, give or take a couple of pounds that may have appeared during a holiday, I've stayed the same because I'm applying the same principles that I've used for the last year. And if a few pounds do creep on, I know how to send them on with their way!