They say a picture is worth a thousand words.
Nutracheck's Food Diary now has 100,000 of them.
Our mission is to make our Food Diary the easiest and most effective calorie counter and 'Picture Search' is a great example.
We now have pictures for over 100,000 UK foods so you can quickly spot the item you're looking for.
What's more you can easily filter the results to show a particular brand name and there are three different views to choose from.
We're constantly adding new products so you're sure to find what you're looking for.
Emotional Eater?
Have you ever wanted to break the cycle of eating when you're bored or upset?
Well we've introduced the 'Food Triggers' feature to help you identify and change these behaviours.
When you add a food to your diary you can choose to tag it with an emotional or situational trigger. A personal report identifies unhelpful patterns and provides constructive articles on how to manage the situation better in future.
It's possible to break bad eating habits. We believe that knowledge is power!
Food wizards to speed up diary keeping
We want to make updating your Food Diary as fast as possible so we invented the 'Food Wizard'.
When you add food such as breakfast cereal, to speed up the process, we show the most commonly associated foods you'd have at the same time.
Add cereal, milk, sweeteners and a topping with just one single click.
It's about balance. An activity diary for non Olympians.
We all know we're eating more and exercising less as a nation. It's no surprise we're gaining weight with more energy dense foods and busy lifestyles that make it hard fit in exercise.
To help offset your energy intake, we've built up a practical and expansive activity database so you can track calories you burn too.
And we aren't talking exercises for the super fit here. Almost everything we do burns calories, so we've researched and added the kind of activities we know you feel comfortable doing. All included in the same simple interface as the Food Diary.
Tip! Put your exercise plans in your diary and treat it like an appointment you can't break.
We're with you when you need us ...
It's easy to fall off the wagon when you're out and about, away from home, can't reach your computer or just too tired in the evening. That's why we introduced our iPhone and Android barcode scanning companion Apps. What's even better is they're free to use while you're a subscribing member.*** Learn more about them.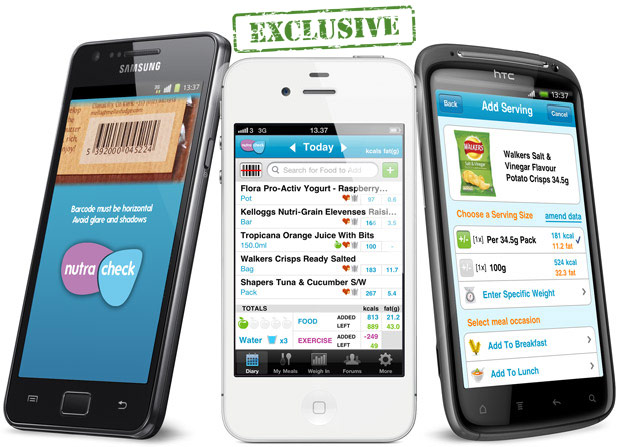 ***Data costs may apply if you exceed your allowence or are away from a wifi connection